In The News: 'Gansett Featured In The Huffington Post
Narragansett Beer: The Rhode Island Lager We Hope Takes America By Storm
The Huffington Post  |  By Rebecca Orchant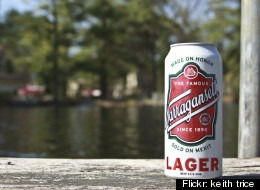 We're on a bit of a Rhode Island kick lately. Last time, we were talking Autocrat, the syrup used in Rhody's state drink, coffee milk. Today, we bring you our smallest state's other favorite drink: Narragansett beer. I first encountered 'Gansett in Cape Cod, in one of those towns where people really only go to one bar, where you can throw peanut shells on the floor. In places like this, 'Gansett is available on tap, for dirt cheap and we're starting to hope everywhere else in America follows suit.
This pale lager (they make other styles of beer as well, but the lager is our favorite) is preferred either on draft or from one of the brewery's iconic, 16-ounce tall boy cans, and is just about the greatest thing on earth with which to wash down a stuffed quahog on a warm summer night. The brewery itself has had a tumultuous existence — between its inception in 1890 and its recent return to glory, 'Gansett has weathered prohibition, fire and near bankruptcy. But the ride hasn't been without its peaks. In the 1930s, the brewery commissioned cartoonist Theodore Geisel (you probably know him as Dr. Seuss) to design a series of iconic logos and advertisements for the brand.
We're not sure if it's Narragansett's congenial nature (their motto "Hi Neighbor! Have A 'Gansett!" always makes us feel cheery), the homegrown love of Rhode Islanders or the general delightfulness of the beer itself, but 'Gansett has some of the most loyal fans around. They also have some of the greatest beer memorabilia of all time, ranging from neckties to sunglasses to soap.
We'd like to invite you to crack yourself open a 'Gansett, sit back and enjoy the amazing history of one of our favorite beers.